Carina Pesch has been moderating events regularly for around 10 years, online and offline, on stages and at eye level, with expertise, friendly, to the point, and in a well-structured manner.
Moderation "Catching Sounds"
an 8 hours online workshop with Chris Watson
GERÄUSCHKULISSE 2020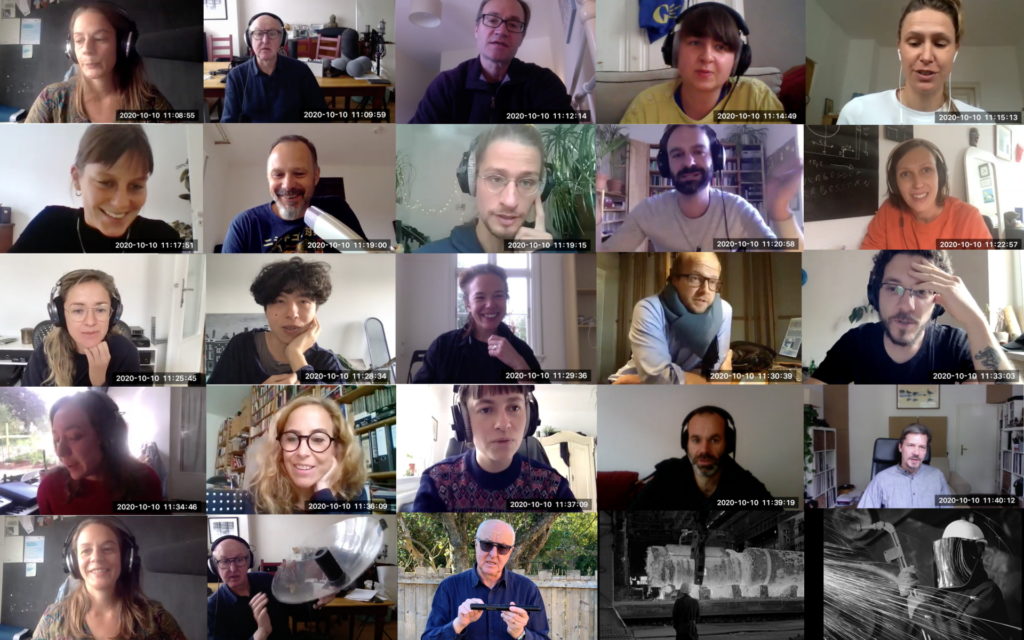 Moderation of Listening Events
Since 2015 regularly for GERÄUSCHKULISSE
Open conversations between sound artists, authors, and the audience. Whether with 15 or 100 guests, in German or English, inside or outside – it is always about mutual exchange. No podium, no frontal teaching. Instead, communication at eye level. We make this possible through a comfortable atmosphere, attentive listening, a seating arrangement without front and back, and our specially developed triangular moderation, which guides with targeted questions, comments, and summaries without forgetting the audience.
Hörspielsommer with Katharina Pelosi and Atonor
11th Juli 2019, Richard- Wagner-Hain, Leipzig
Radio play and talk with Maxi Obexer
18th March 2018 Hostel & Garten Eden, Leipzig
Radio feature and talk with Boniface Mobanza and Veronica Frenzel
18th January 2019 Grassi Museum, Leipzig
Barcamp and award ceremony
14th – 16th December 2018 Westwerk, Leipzig
Concert and talk with Jaromír Typlt and Michal Rataj
27th May 2019 Westwerk, Leipzig
Lecture Performance and talk with Patrick Franke
8th August 2020 East Park, Leipzig
Moderation of the final event of "My Story"
Digital storytelling as inspiration for social dialog
wisamar Bildungsgesellschaft, #MyStory: Media, Migrants & Refugees project (Europäische Kommission/Europa für Bürgerinnen und Bürger, European Association for Viewers Interests, The Alliance Internationale de Journalistes, Euroform, IntermediaKT, DRPDNM and The Hungarian Moving Image and Media Education Association)