An Experimental Radio Feature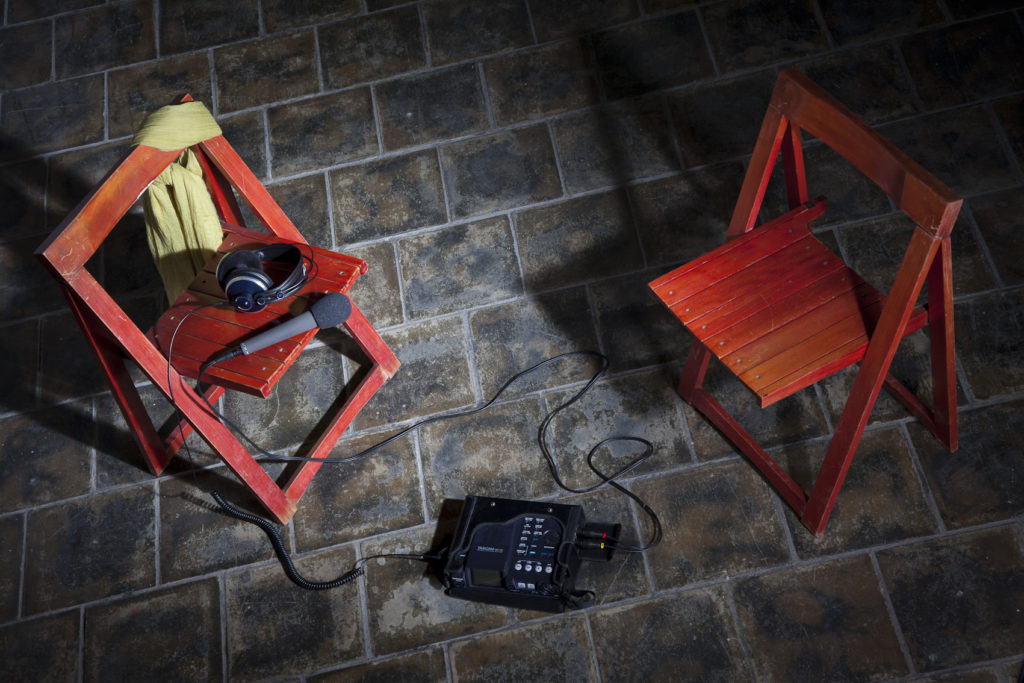 An artist in a glass box – Berlin, fifteen days, five smartphones, and a huge LED screen. He streams the chats he has on gay dating apps. A fight. A scandal. Cancellation of the project. The main complaint: Making gay sexuality visible in public space, ignoring privacy.
A radio maker in a trance of listening – blindfolded, wired with mic and headphones. She sets out on a quest for the gay world. Why is it still that far apart from the hetero world? And: What's the impact dating apps have? She sets in scene the scandal, the clash of two worlds. She contrasts the clash caused by the performance artist with an intimate, solely acoustic approach. Blind, as many heteros towards the experiences of gays, she starts a dialogue with her blind dates. She lets them guide her and
discovers them solely acoustically. What is left of a person if only their voices are heard?
An acoustic darkroom. An alternative draft in opposition to the world of images on dating apps. A parable on acceptance and open-mindedness.
…the whole piece upon request….
text / sound / directing
Carina Pesch
production
SWR2 2016
voices
Cade McCall, Bettina Conradi, Friedemann Brenneis, Katja Schmidt, Carina Pesch, Dries Verhoeven, Martin Dannecker, and others
commissioning editor
Walter Filz
image
Felix Mayrl
Original broadcast 11th May 2016 10:03 p.m. on SWR2 – Feature am Sonntag.
Rebroadcasted 7th June 2017 on Deutschlandfunk Kultur.
Presented 8th July 2017 8 p.m. at Hörspielsommer.
WANNA PLAY? THE REMAKE is shortlisted for Kurzes Brennende Mikro at Berliner Hörspielfestival 2018. April 28th 2018 between 9 and 10 p.m. it will be played at Theaterdiscounter in Berlin.